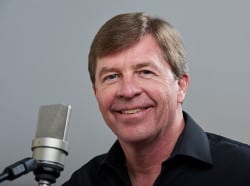 Beginning his professional voice-over career in 1979 as an on-air radio personality, audio production specialist and male voice actor, Eric Lee is the engaging voice of thousands of radio and television commercials, a multitude of video narrations, eLearning courses, on-hold messages, audiobooks, explainer videos, and more. His versatile, warm voice captures your audience's attention and delivers your message clearly, confidently and effectively, be it a conversational read, crazy character voice or accent, or any style you can imagine.
Small, medium, and Fortune 500 companies rely on Eric Lee to deliver their message. You can, too!
He also offers voiceover coaching and presenter coaching.
Eric Lee serves voiceover clients worldwide via Source Connect and ipDTL.
Recent Voiceover Projects
A Philadelphia-area casting director recently said…
Eric Lee is a master of shaping his baritone voice and clear diction into communication that is at once pleasant and warm but also authoritative and convincing. His "wheelhouse" is versatility in range and styles from narration to humorous characters to powerful and interesting commercial sells. Eric's rich voice performs accurately to his skilled interpretations. Add to that his keen responsiveness to direction, and you have a voice-over client's "one-man band."
"Eric Lee is the consummate professional. He took a very challenging project and made it 'sound' easy. Eric's talent goes beyond his voice; he not only worked well with my client but also made suggestions that improved the flow of the content. I truly appreciate his flexibility, attention to details, and prompt turnaround. I look forward to working with Eric on future projects."
Mary Lefaiver, Senior Instructional Designer
Digitec Interactive
Technical Capabilities
Additional Eric Lee Demos
Video Demo Reel – On-Camera Talent
"I have worked with Eric for years and have always been impressed with his ability to produce high quality deliveries on and off camera. Eric has an art to taking highly technical copy and deliver a cold read as if he had memorized the material all morning. He makes our shooting days shorter and provides a dynamic range that allows me to offer his services to a wide variety of clients. I highly recommend him – he is a true professional."
Brad Kenyon, Video Producer
Aurora Creative Group